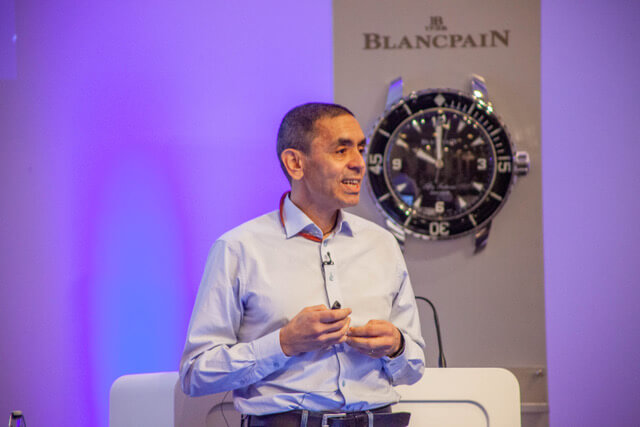 Dear Friends,
Innovation is the driving force behind progress, and once again it's time to celebrate the companies that are pushing the boundaries of what's possible. We are excited to announce the call for nominations for the iconic World's Top 50 Innovators 2024 in London 8-10 May.
This is your opportunity to shine a spotlight on the visionaries and trailblazers who are shaping the future across industries. We are seeking nominations from companies, organisations, and individuals who have demonstrated exceptional creativity, leadership, and a commitment to transforming the world through innovation.
Since the start of the pandemic, no less than five Codex alumnae, have applied their technology to this crisis, including Dr Ugur Sahin, CEO, BioNTech (pictured above), who created the world-first mRNA coronavirus vaccine in partnership with Pfizer. The technology was pioneered by Katalin Kariko at BioNTech, who went on to win the Nobel Prize in Medicine 2023. (read more)
Super early bird tickets are now available click here
Why Nominate?
Recognition and Prestige: Being named one of the World's Top 50 Innovators is a mark of distinction and a testament to your commitment to excellence.
Global Visibility: Showcase your company on the global stage and gain exposure to a wide audience of influencers, investors, and potential partners.
Networking Opportunities: Connect with like-minded innovators, industry leaders, and experts at our exclusive showcase.
Inspiration: Join a community of innovators and inspire the next generation of trailblazers.
How to Nominate
Nominating a company for the World's Top 50 Innovators 2024 is simple and free. Just visit our nomination page and submit your form click here
Tell us about the innovative projects, breakthrough technologies, and visionary leaders that deserve recognition.
Deadline for nominations is 30 November 2023
Who Can Be Nominated
Multinationals
Established Corporates
Start-ups
Research Institutions
Visionary Leaders
We are looking for "world-firsts" or "ground-breaking technologies" in the following areas:
Day 1
Artificial Intelligence
Robotics
Future of Mobility
Day 2
Biotechnology
Technologies to Preserve the Oceans
Space Technologies
Day 3
FinTech and Blockchain
Quantum Computing
Innovation by Design
If you know of a company or individual who is shaping the future, this is your chance to celebrate their achievements and contributions. Click here to nominate
Format Codex Talks
A Codex Talk is a concise presentation, lasting 15 minutes (or less), in which the speaker addresses a challenging question faced by their technology or industry today, and ends with a bold prediction for the future.
Codex Talks are engaging, entertaining, and elucidating. They should give the audience something they can walk away with: valuable insights, actionable information, fresh perspectives, and renewed optimism.
Each Codex Talk has the potential to reach tens of thousands of viewers and to sow the seeds of many new conversations.
Speaker Testimonials from World's Top 50 Innovators 2017
Speaker Testimonials from World's Top 50 Innovators 2019
Speaker Testimonials from World's Top 50 Innovators 2022
Spread the Word
Help us uncover the world's most innovative companies and individuals by sharing this invitation with your network. Together, we can celebrate the innovators who are making a lasting impact.
Join us in celebrating innovation at its finest! Submit your nominations and be a part of the World's Top 50 Innovators 2024 click here
Thank you for your dedication to innovation and your commitment to recognising those who are driving change. We can't wait to see who will join the ranks of the World's Top 50 Innovators in 2024!
Super early bird tickets are now available click here
Have a great day.
Rakesh Rawal
T. +44 7 956 101 101
Codex – International Technology Leaders' Network
Listen again to the best Codex Talks of the decade 2012 – 2022