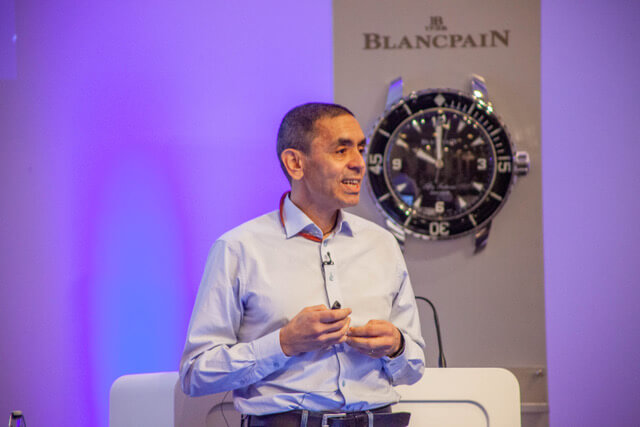 Attendees at last year's World's Top 50 Innovators 2019 hosted at the Royal Society, London were blown away by CEO of BioNTech, Dr Ugur Sahin and his presentation on individualised cancer immunotherapy (link to video). Dr Sahin discussed how an RNA-based treatment could be used to generate immunity against a whole host of mutations (the 'mutanome') found even in late stages of cancer. No sooner had the sequence of SARS-CoV-2 been published, Dr Sahin and his team at BioNTech applied this technology to this new coronavirus strain. Their first in class mRNA vaccine to prevent COVID-19 has been developed in record time, in partnership with Pfizer. Preliminary results show that the vaccine is 90 per cent effective in preventing the disease. In this clip, Dr Ugur Sahin discusses the versatility of his mRNA-based technology (link to video)
Albert Bourla, CEO and Chairman, Pfizer said: "Today is a great day for both science and humanity, as the first set of results from our Phase 3 COVID-19 vaccine trial provides compelling evidence of our vaccine's ability to help prevent COVID-19. With today's news, we are a significant step closer to delivering what we believe is likely to be one of the biggest medical advancements in the past 100 years — with the potential to impact billions of lives."
Since the start of the pandemic, no less than five past Codex T50 speakers have applied their technology to this crisis. Robert Hariri, CEO, Celularity, is examining Natural Killer (NK) Cell Therapy, a form of white blood cells derived from placental stem cells, that fight cancer and viral infections. Ken Mulvany, Chairman, BenevolentAI, which uses AI and machine learning to transform the way medicines are discovered and developed, identified baricitinib this year as a potential treatment for COVID-19. Gordon Sanghera, CEO of Oxford Nanopore, developed one of the world's fastest coronavirus tests, helping to break chains of transmission quickly and safely. Additionally, Gareth Davies, a medical physicist by training, demonstrated the importance of Vitamin D in preventing severe coronavirus infection.
Codex is proud to host the next T50 in Melbourne at the spectacular State Library of Victoria in May 2022.
Rakesh Rawal, CEO, Codex said: "The T50 is an inspirational showcase and testament to the power of science and technology as a force for good in society. We are looking forward to bringing this event to Melbourne and hearing from another 50 innovators whose powerful technologies are sure to be applied to solving some of humanities' biggest problems and to power growth across the world".
Technology sectors to be examined will include:
Day 1
Robotics
Artificial Intelligence
Future of Mobility
Day 2
Biotechnology
Materials Science
Space Technologies
Day 3
Blockchain Technologies
Quantum Computing
Technology and the Impact on Society
Format
The format will be a series of Codex Talks. A Codex Talk is a concise presentation, lasting 15 minutes (or less), in which the speaker addresses a challenging question faced by their technology or industry today and ends with a bold prediction for the future.
Codex Talks are engaging, entertaining and elucidating. They give the audience something they can walk away with: valuable insights, actionable information, fresh perspectives, and renewed optimism.
The success of the T50 conference in 2017 and 2019 can be witnessed from the testimonial videos:
Speaker testimonials from World's Top 50 Innovators 2017
Speaker testimonials from World's Top 50 Innovators 2019
Partnership Opportunities
Partnering with the World's Top 50 Innovators 2022 enables your organisation to participate in immersive marketing packages designed to demonstrate your leadership alongside the industry's most influential visionaries while generating new leads and engaging with your key decision makers face-to-face.
If you feel this event could be beneficial for your organisation to participate in Australia, please get in touch to start the conversation.
I look forward to hearing from you.
Best wishes,
Sophia Alimperti
Head Curator, Codex
Codex – International Technology Leaders' Network
Listen again to the best Codex Talks of the decade 2010 – 2020