About Codex
We selected the name "Codex" as Leonardo da Vinci was the embodiment of the Renaissance ideal.  His "Codex", or notebooks, are a testament to his interest in a multitude of subjects and to visionary ideas which were centuries ahead of their time.
Codex's mission is to evoke a similar spirit of enlightenment by inspiring technology leaders and entrepreneurs to apply their collective imaginations to deliver technologies that will continue to transform our lives. Whilst the creativity of Leonardo da Vinci was captured in his notebooks, Codex shares the wisdom of today's great innovators via Codex Talks and events.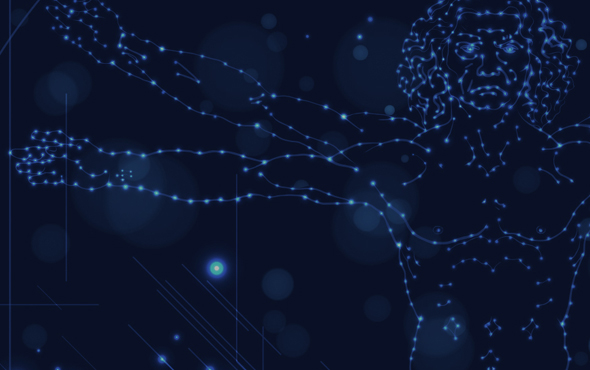 Technology has played a unique role in powering growth and transforming economies, since the Industrial Revolution.  Catalysed by the internet, the pace of technological change and scientific breakthroughs is accelerating making it impossible to predict the next big idea. Codex events are designed to review the very latest new technologies which have the potential to disrupt the status quo and transform every single aspect of our lives.
Once an interesting or exceptional topic is picked for discussion, no effort is spared to find the most high profile speakers to provide a focal point for the occasion.  This special mix creates compelling dialogue, and provides a high-level platform for cross-industry debate.
Founded in London in 2005, Codex events have captured the imagination of sophisticated audiences for nearly 20 years, hosting some of the biggest names in business, science, technology, politics, media and academia.
Our celebrated list of speakers include:
Nobel Laureate Dr. John Mather, NASA Goddard Space Flight Center; Senior Project Scientist, James Webb Space Telescope; Nobel Prize Physics 2006; Dr Douglas Terrier, Chief Technologist, NASA; Dr. Jim Green, Chief Scientist, NASA; Rt Hon Kenneth Clarke CH QC MP, Chancellor of the Exchequer (1993-1997); Sir David King, Founder and Chair, Centre for Climate Repair, Cambridge. Chief Scientific Advisor UK Government (2000 – 2007); Tom Purves, CEO, Rolls-Royce;  Willie Walsh, CEO, British Airways; Neha Palmer, Head of Energy and Global Infrastructure, Google; Amir Khusrowshahi, Chief Technology Officer, Artificial Intelligence, Intel; Naveen Jain, Executive Chairman, Moon Express; Mikko Hypponen, Chief Research Officer, F-Secure; Dr Kari Stefannson, CEO, Decode Genetics; Bruno Maisonnier, CEO, AnotherBrain; Geoffrey von Maltzahn, Chairman, Tessera Therapeutics; Kylie Lucas, Corporate Strategy Lead, Blue Origin; Emad Mostaque, CEO and Founder, Stability AI;
Caroline Gorski, CEO, R2 Factory at Rolls-Royce; Anima Anandkumar, Director of Machine Learning Research, NVIDIA. Bren Prof, Caltech; Caroline Hargrove CBE, Technical Director, McLaren; Gordon Sanghera, CEO, Oxford Nanopore Technologies; Andrew Rubin, CEO, Illumio; Lord Neil Kinnock, Vice-President, European Commission; Rt Hon Lord Michael Howard QC; Mihir Bose, BBC Broadcaster;  Ashish Chauhan, CEO, Bombay Stock Exchange;  Marek Reichman, Director of Design, Aston Martin;  Dr Hamid Mughal, Director of Manufacturing, Rolls-Royce; Patrik Schumacher, Senior Director, Zaha Hadid Architects; David Keith, Founder, Carbon Engineering; Claire Jones, COO, What3Words;
Prof. Dr. Ugur Sahin, CEO, BioNTech; Dame Helena Morrissey DBE; Andy Palmer, CEO, Aston Martin; Dr John M Sankovic, Glenn Research Center, Chief Technologist, NASA; Prof. Ewan Birney CBE, Deputy Director General, EMBL-EBI; Nikita Chen-iun-tai, CEO, Apis Cor; Jane Zavalishina, CEO, Yandex Data Factory; Joanna Hubbard, COO, Electron; Susanne Tarkowski Tempelhof, Founder, Bitnation; Mr Babulal Sethia, President, The Royal Society of Medicine; Jaideep Prabhu, Nehru Professor of Indian Business and Enterprise, Cambridge University;  Aram Shishmanian, CEO, World Gold Council; Katie Moussouris, CEO, Luta Security; Adina Gillespie, Director Europe, GHGSat;
Andrew Neil, BBC Broadcaster; Jeremy Webb, Editor-in-Chief, New Scientist; Stephen Murphy, CEO, Virgin Group;  Dr Philip Campbell, Editor-in-Chief, Nature; Michael Cervenka, Head of Future Technologies, Rolls-Royce; Lawrence Orsini, CEO, LO3 Energy; Sir Nigel Shadbolt, Big Data Expert, Master of Jesus College, Oxford; Rich Walker, CEO, Shadow Robot; Simon Bransfield-Garth, CEO, Azuri Technologies; Baroness Susan Greenfield; René Bostic, VP Innovation and New Technologies, IBM; amongst many others.
No speaker has ever been paid to speak at a Codex event.  This is testament to the quality of the technology and business leaders' network we have built over nearly two decades.
CODEX TALKS
The hallmark of Codex events are Codex Talks which are concise presentations, lasting 15 minutes (or less), in which the speaker addresses a challenging question faced by their technology or industry today and ends with a bold prediction for the future.
Codex Talks are engaging, entertaining and elucidating. They give the audience something they can walk away with: valuable insights, actionable information, fresh perspectives, and renewed optimism.
Speaker Testimonials from World's Top 50 Innovators 2017
Speaker Testimonials from World's Top 50 Innovators 2019
Speaker Testimonials from World's Top 50 Innovators 2022

Codex is independent, impartial and not tied to any special interests.