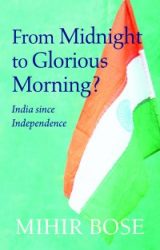 From Midnight to Glorious Morning?
A midnight child's look at how India has changed
Buy from amazon
Winston Churchill famously believed that India could never be a nation. In 1917 the British War Cabinet had concluded that it would take at least 500 more years for the Indians to be able to govern themselves. But just 30 years later India proved them wrong, when Nehru made his famous 'tryst with destiny' midnight speech. Of course, multifarious problems continue to plague India, but over the last 69 years it has made a remarkable journey.
Mihir Bose is a midnight's child (born around the time of India's Independence) who grew up in Nehru's India and lived under Indira Gandhi's Emergency. Since becoming an NRI, he now draws on the experience of his annual travels back to India to reflect on how India has changed since it won its epic freedom struggle against British rule. It may be poised as an economic superpower and lauded for being the world's largest and highly vibrant democracy but Bose also brings out why 'one size fits all' has never been the Indian story, a story that can surprise both foreigners and Indians alike. He visits the site of Gandhi's historic salt march; returns to his father's birthplace in what is now Bangladesh; has a reunion with several of his former schoolmates from Bombay; talks to midnight's grandchildren and ponders the intriguing and unsung collaboration to Indian history of 'Phoren' women from Sister Nivedita to Sonia Gandhi.
Yet while there is much to celebrate in how India has defied the predictions of doom when the Union Jack was brought down and the Tricolour unfurled, Bose's personal, nuanced and trenchant book show that it would be naïve to pretend that the bright morning we all hoped for has yet dawned. The question mark in the title signifies not doubt about India's future, but recognition that there is still far to go.
'He is a jack of many trades, but what's outstanding about Mihir Bose is a sense of observation'
Anuj Kumar
The Hindu
'A magician with words … His versatility is reflected in the wise range of his publications, political, biographical and sporting.'
The Pavilion End
'Mihir Bose is one of the most respected journalists attached to the London quality press.'
Denis O'Hara
News Letter, Belfast
'Bose does not have the 'fanboy' mentality. He gets his teeth into stories on funding and deals, has a reputation as a scoop merchant.'
PR Week