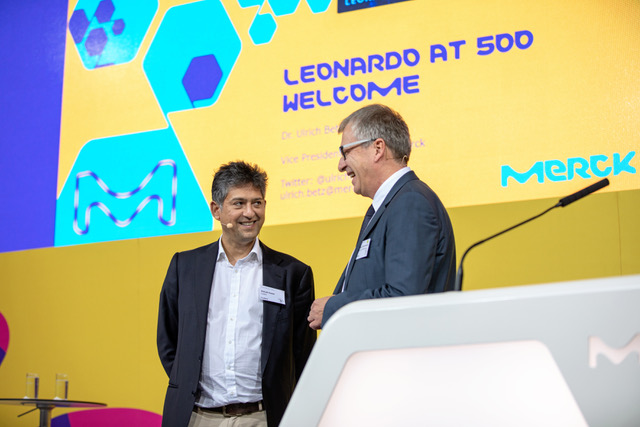 Dear Friends,
Thank you very much for joining us at Codex events all over the world in 2019..!
We were delighted to welcome you, and we enjoyed the great energy, the mix of people and enriching conversations.
It proved to be an exceptional year of Codex Talks starting with the Leonardo at 500 celebrations and culminating in the senior leadership of NASA joining us for the World's Top 50 Innovators 2019 to commemorate 50 years since the first moon landing.
Please enjoy the highlights:
Prof. Dr. Frank Fehrenbach, Leonardo Scholar, University of Hamburg
What can we learn from Leonardo that could help breakthrough innovation today?
Dr. Jim Green, Chief Scientist, NASA
Why return to the Moon?
David Keith, Founder, Carbon Engineering
How to make transportation carbon neutral?
Rene Bostic, VP Innovation and New Technologies, IBM
The End of Fakes – How could Cryptographic Anchors can track goods from Producer to Consumer?
Katie Moussouris, CEO, Luta Security
We've Hacked the Planet; Now What?
Caroline Hargrove CBE, Chief Technology Officer, Babylon Health
Can my digital twin help me live a healthier life?
Robert Hariri, CEO, Celularity
Harnessing the biology of the placenta to treat cancer
Bruno Maisonnier, CEO, AnotherBrain
Will the next generation of AI fly us to the stars?
Mark Pivac, CTO, Fastbrick Robotics
How do you take the precision of indoor robotics outdoors?
Anima Anandkumar, Director of Machine Learning, NVIDIA
The path to embodied intelligence
Clare Jones, COO, What3Words
Where is dining.moving.change?
George Tsirtsis, Senior Technology Director, Qualcomm
What can 5G bring to extended reality?
Adrian Griffiths, CEO, Recycling Technologies
How can we recycle 90% of all plastic?
Antony Jenkins, Executive Chairman, 10x Future Technologies
The key three things you need to know about the future of financial services
Karin Bjerde, Head of Strategic Growth, Kognity
Why technology is needed to solve the world's greatest scaling challenge – education
Adam Jacoby, Founder, MiVote
How can tech help find policy consensus and combat ideological tribalism?
Bruce Schneier – Why technologists need to get involved in public policy?
Prof. Steve Fuller, Warwick University
The Fork in the Road for the Future of Humanity: Or, another look at Leonardo's "Vitruvian Man"
Waqas Ahmed, Author, The Polymath
Is the era of "specialisation" over?
Dr. Rajiv Vaid Basaiawmoit, Head of Sci-Tech Innovation & Entrepreneurship, Aarhus University
What is the Medici Effect and what does it have to do with Innovation?

Dr. Jennifer Margaret Galloway, Associate Professor, Aarhus University
What happens when teratonnes of carbon are emitted to the atmosphere?

To view the best Codex Talks of the decade 2010-2020, please visit the Codex Youtube channel.
Founded in London in 2005, Codex events and Codex Talks have captured the imagination of sophisticated audiences for nearly 15 years, hosting some of the biggest names in business, science, technology, politics, media and academia. We are now offering our knowledge and experience to organisations that would like to organise bespoke events.
Technology is having a transformational effect in every industry, and every industry is looking to technology for innovation and growth. A bespoke Codex event will position you to lead that conversation. And once an exciting topic or theme is selected, no effort is spared to find the most high profile speakers to provide a focal point for the occasion. This special mix creates compelling dialogue, and provides a high-level platform for developing and growing profitable business relationships.
Codex Talks are engaging, entertaining and elucidating. They give the audience something they can walk away with: actionable insights, fresh perspectives, and renewed optimism.
Speaker Testimonials from World's Top 50 Innovators 2019
If you would like Codex to organise an event for you in 2020, please get in touch to start the conversation.
Codex – International Technology Leaders Network