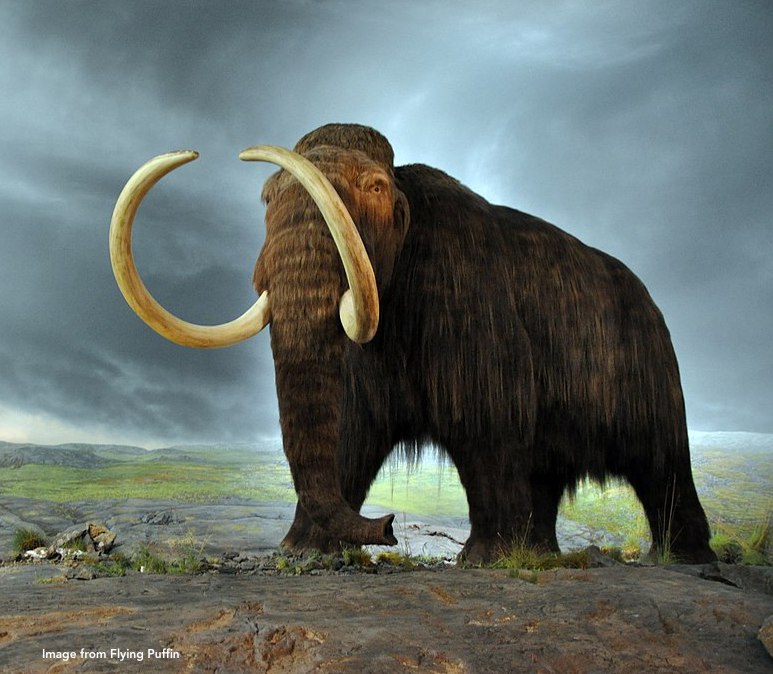 Woolly mammoths have been extinct for over 4,000 years.
Scientists at Colossal Biosciences led by Harvard Medical School professor, Dr. George Church, want to resurrect the woolly mammoth. They will use fragments of mammoth DNA recovered from fossils, and using CRISPR gene editing technology tweak the genome of an Asian elephant, a close living ancestor.  Sixty genes have been identified which give the distinctive traits of mammoths, such as hair, fat and the woolly mammoth's distinctively high-domed skull. The hybrid genome could be implanted in to an elephant's womb. After 20 months, a mammoth could walk the earth for the first time in 4,000 years.
Bringing mammoths back from extinction is, if you excuse the pun, a "mammoth task". So what's the point? Populating Arctic tundras with mammoths, and encouraging their natural grazing habits of breaking up moss and maintaining grasslands, could beneficially change the ecology of these regions and help slow down the melting of permafrost, preventing millions of tonnes of CO2 being released from frozen soils.
Come and meet Colossal Biosciences, and hear how Colossal's technology could have major implications for the treatment of human diseases, resurrecting extinct species, and saving others from extinction.
Don't miss one of the most prestigious events in the tech calendar.
World's Top 50 Innovators 2022 – 26th to 28th September 2022
Our early bird rate for tickets ends on 22nd August. Secure your place now.
This event will sell out.
1 day, 2 days and 3 days tickets available
Come and join us to celebrate world-firsts and sensational achievements in the high-tech sectors.
Click here for all confirmed speakers, 3 days schedule and TICKETS
See you in London..!
Listen again to the best Codex Talks
Codex – International Technology Leaders' Network