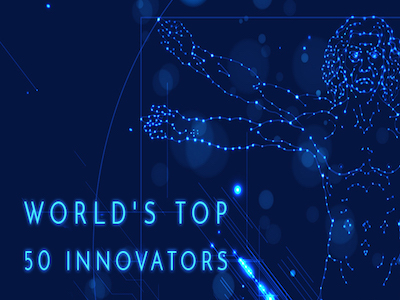 Following the success of last year's event, 'The World's Top 50 Innovators Series 2018', is to be staged by Codex at the Royal Institution in London from 30th October to 1st November 2018.
Established in 1799, the Royal Institution is one of the world's oldest scientific organisations. For most of its history it has doubled as a centre for scientific research and public education. Fifteen Nobel Prize Winners have worked at the Royal Institution. Ten chemical elements were discovered under its roof and Michael Faraday conducted his seminal work on electricity in the lab. He went on to set up the Christmas lectures that are broadcast to millions to this day.
We are inviting the scientists, engineers, entrepreneurs and visionaries who are building the "Industries of the Future", to better understand where new wealth will be created, whilst also examining the impact on the economy and society.
Industries of the Future to be examined will include:
The Future of Transport
Robotics and Artificial Intelligence
Virtual and Augmented Reality
Genomics and Digital Health
Cyber Security
Educational technologies
Industry 4.0 and The Internet of Things
Blockchain Technologies
The Impact of Technology on Society
Format
The format will be a series of Codex Talks. A Codex Talk is a concise presentation, lasting 15 minutes (or less), in which the speaker addresses a challenging question faced by their technology or industry today and ends with a bold prediction for the future.
Codex Talks are engaging, entertaining and elucidating. They give the audience something they can walk away with: valuable insights, actionable information, fresh perspectives, and renewed optimism.
All Codex Talks from 2017 can be viewed from www.codex.com
Codex Talks will be delivered in the world famous Michael Faraday theatre where the Royal Institution Christmas lectures are filmed and broadcast.
World's Top 50 Innovators 2017 – Speaker Testimonials
Sponsors will include the US Embassy in London. Official Timekeeper will be Blancpain
Sponsorship Opportunities available:
Lead Sponsors
Co-Sponsors
Industry Session Sponsor
Drinks Reception Sponsor
Exhibitors
Deadline for sponsors will be 23rd March.